Welcome to Women's Travel Writing, 1780-1840: A Bio-Bibliographical Database, providing full records for all known books of travel published in Britain and Ireland by women between 1780 and 1840, supplemented by notes, short biographies of the travel writers and illustrators, and web links to online digital editions.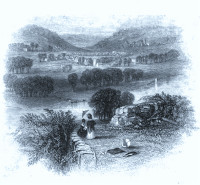 First launched in July 2014, the database and its biographies are the work of Dr Benjamin Colbert of the University of Wolverhampton's Centre for Transnational and Transcultural Research, with generous support from the Wolverhampton Faculty of Arts, Business and Social Sciences and a 2016-18 research grant from the British Academy and Leverhulme Trust.
Travel writing is here defined in terms of genre (narratives, guidebooks, illustrated letterpress plate books, topographical descriptions, and collections); witness (accounts derived from actual tours); and place of publication (Britain and Ireland). While women contributed only around 5% of the total of such travel writings in the marketplace, the database charts the growing presence and professionalization of women travel writers in the nineteenth century.
You can query the database in two principal ways:
Search by single or multiple fields (including author, author roles, title, date of publication, publisher, genre, original language, and regional content)
Browse by Author, Illustrator, Publisher, or Printer
Visit About Women's Travel Writing for information on the database's History, scope and aims; Credits and acknowledgements; Sources and abbreviations; How to cite the database; Contact information; and Copyright.
For the latest developments of the Women's Travel Writing project, please visit the News & Events page.